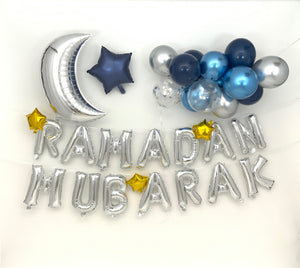 Add some joy to your Ramadan and make your family and guests have a memorable day. This beautiful and one-of-a-kind Ramadah decoration set to will help you celebrate your special moments. Your guests and family will love these latex and foil balloons.

This package includes:
-RAMADAN MUBARAK 16-inch Letter Foil balloons,
-one 36-inch Silver Moon Foil balloon,
-one 18-inch Steel Blue Star Foil balloon,
-three 5-inch Gold Star Foil balloons,
-two 12-inch Silver-Confetti Latex balloons,
-four 12-inch Metallic Blue Latex balloons,
-four 12-inch Navy Blue Latex balloons,
-three 12-inch Metallic Silver Latex balloons,
-one balloon tape strip,
-one balloon dot glue.

Straw and ribbon are also included in the set.
FUN DECOR WITH FOILS AND CONFETTIS: Big size foil balloons will fill the environment with joy and fun. After inflating confetti balloons with helium or air, rub gently balloon on a fabric surface such as carpet or silk, then roll the balloons. Because of the static electricity, the confettis will stick to the sides of the balloons. The great design creates a fun and entertaining environment for the guests.
HIGH QUALITY: The balloons in the set are made of premium quality, non-toxic materials and can hold helium or air for long hours.