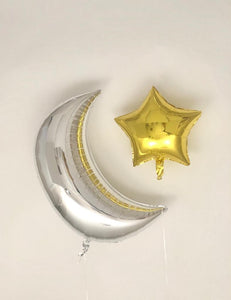 Share Eid or Ramadan spirit with your loved ones and make your family and guests have a memorable day. Durable, helium inflatable and beautiful crescent and moon set to will help you celebrate your special moments. 

THE PACKAGE: This moon and star balloon bouquet set includes:
-one 36-inch Silver Crescent Foil balloon
-one 18-inch Gold Star Foil balloon

Straw and ribbon are also included in the set.

FUN DECOR WITH FOILS: Big size foil balloons will fill the environment with joy and fun. 

HIGH QUALITY: The balloons in the set are made of premium quality, non-toxic materials and can hold helium or air for long hours.